Great Food! Good Company! Good Time!
Dateline: 9.24.22 – Greetings, Cruisers! We did it again. We racked up another happy Meet'n Eat Event, this time at Mr. Sammy's (on the roundabout) in downtown Lake Placid, Florida. Mr. Sammy has been very generous in his support for Lake Country Cruisers with a 50/50 Gift Certificate that we gave away as a runner-up prize at our Labor Day Cruisers Show on September 3, 2022. That's a nice'a, nice "Dinner For Two"!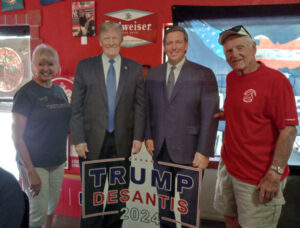 Seven Cruisers tied on the Italian Feed Bag. We had Chicken Parmesan, Cauliflower Pizza, Stromboli (Jack Murphy's first!), and Pepperoni Pizza. Everything was more than delicious!
In attendance were; Mary Carol Plott, John Meyerhoff, Scott & Karen Teeters, Jack Murphy, Ron Ellerman, and Pete Richie.
A BIG Congrats to our Pete Richie for being inducted into the Lake Placid Chamber of Commerce Hall of Fame for his leadership in running the biggest Caladium Festival Car & Bike Show last July. Continue reading "Cruisers Gather at Mr. Sammy's For Our September Meet'n Eat!" →