Good Conversation! Good Pizza! Good Beer! And Good Chicken Parm!
Dateline: 3.28.22 – Lake Country Cruisers racked up our second Meet'n Eat Event, this time at Mr. Sammy's New York Style Pizza. A big "THANKS!" to Sammy, as everyone got a free big slice (more like TWO slices!) and a cold draft or cold soda pop.
We had nine Cruisers that included: Justin Donahue, Jim Maze, Bob Wolf, Christy Silsby, Ron Ellerman, Brian Geever, Jack Murphy, Bob Berard, and yours truly. We bench raced and solved the world's problems in just two hours!
We will be making an announcement for our April Meet'n Eat later this week, as well as an announcement concerning a project we've been working on for a few months now that we believe everyone will be happy about.
Our next Lake Country Cruisers Car Show will be April 9, 2022, at the Lake Placid American Legion, Post 25. We will be back at Mr. Sammy's in July.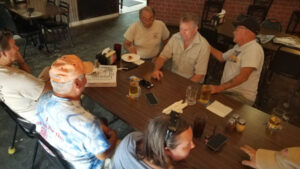 That's all for now! Scott, Ron, & Pete