Dateline: 3-23-22 – Hey Cruisers, Pete and Ron just let me know that Mr. Sammy is so pumped about tomorrow's Meet'n Eat, if you bring your machine, you will get a FREE slice of his New York-Style Pizza and a beer!
Now, where are you going to get a better deal than that?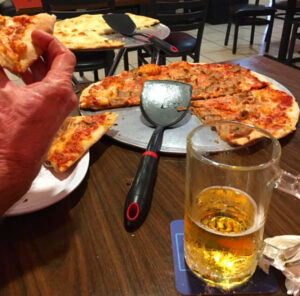 Tomorrow's Meet'n Eat will be from 2 pm to 4 pm. So, bring your car and your appetite!
Also, Ladies are more than welcome! See you there! – Scott
PS – We'd like to get an outside group photo after we all arrive.