Our Cruisers friend Larry Dudgeon has gone on ahead for his Eternal Cruise…
Greeting Cruisers! Note: Before I get into Larry Dudgeon's passing, a quick mention about our posts. The "date" you see published just below the subtitle of each post does not correspond with any of our events. It is just the date I posted the article. – Scott
Last week, John Meyerhoff from Highlands County Corvettes e-mail me to let me know that on November 17, 2022, Larry Dudgeon passed on. Larry was 88 years old.
Larry was Lake Country Cruisers February 2022 Cruiser of the Month.
Last February I had a chance to talk at length with Larry. Here's what I learned.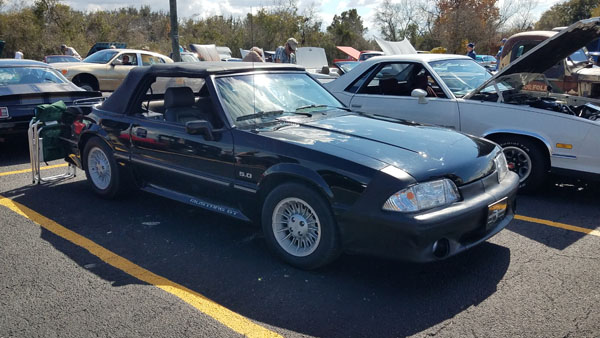 Larry resided in Spring Lake, close to the Sebring, Florida airport, but was from Blufton, Ohio. Larry spent six years in the United States Military and served fifteen months in Korea. While in the military, Larry worked in ordnance repair and was an electrical and fuel technician. Larry was first introduced to fuel injection and supercharging while working on military V-12 engines.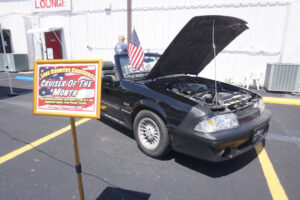 Larry' was a car guy all his life and his first hot rod was a Ford Model A Coupe that he made into a convertible, and was powered by one of the hot setups of the day, an Olds Rocket 88 engine. Larry drive that car for a few years then got into a '34 Plymouth with a stout Olds engine. Over the years Larry had a good number of hot cars that he built.
Street machines went on the back burner in the '70s and 80s while raising a family, but got back into building hot cars in the '90s. Along the way, Larry was fascinated with GM's Olds 350 and 403 diesel-powered cars.
At the same time, Larry got the Fox-body Mustangs, eventually owning seven 302 Mustang beasts! He also developed a passion for big Ford Crown Vic Police Cruisers. When we last talked, Larry had two Fox-body Mustangs, a 1990 Notchback and a '92 Convertible. Larry also had a passion from his youth for '50s and '60s Oldsmobiles.
Larry was in-and-out of racing dirt track, Stock Cars, Sprint Cars, and worked in many pit crews. Here's how Larry summed up his passion for cars: "When I'm behind the wheel, I feel young again!"
Cars, trucks, and motorcycles have a way of doing that for us, Larry. We can all attest to that. They're good for the soul! – Scott, Pete, and Ron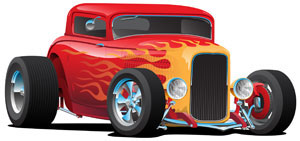 ---