A Fun Documentary about Ed "Big Daddy" Roth and His RAT FINK
Greetings Cruisers! We're all gear-heads and grew up in the '50s, '60s, and '70s. It was IMPOSSIBLE back then to attend a car event without seeing Ed "Big Daddy" Ed Roth's classic ANTI-MICKEY MOUSE, the Rat Fink.
While Mickey was all about cute, wholesome, family-safe fun, the Rat Fink was ugly, stinky, had pointy bad teeth, was obnoxious green, had blood-shot bulging eyes, drove recklessly, burned rubber all the time, and had flies buzzing around him that he would sometimes eat!
The video is funny, irreverent, and has charming animations. Actor John Goodman does the voice-over of Ed telling his story. A handful of famous actors add their voices to the story.
See if your ear can spot Ann Margret!
When Ed was a pioneer in the Hot rod culture, there were t-shirts, decals, model kits, posters, and more; with Roth's vision of the Anti-Mickey Mouse and anti-hero characters and car-toons If you do searches on Amazon and eBay, you'll find all kinds of Ed Roth and Rat Fink vintage products. Some of the old Rat Fink comic books are surprisingly expensive.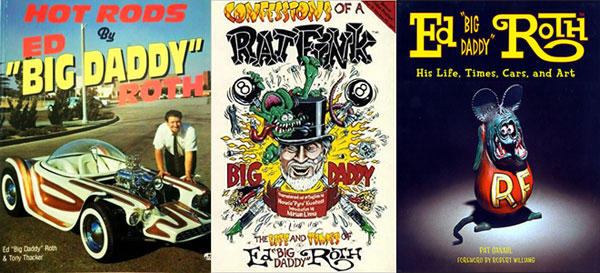 Ed Roth launched an amazing career and boys LOVED the Rat Fink. The expression, "You Rat Fink!" quickly became adolescent boy's favorite put down!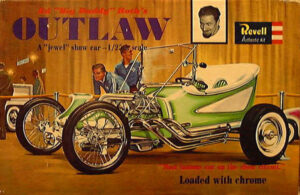 Ed Roth died on April 4, 2001. He was only 69 years old. Although Ed has been gone now for over twenty years, his art and humor live on.
Ed Roth's official website is… https://www.ratfink.com/ and they offer a staggering selection of "Smoking-Hot Fink" gear.
Check it out, get a t-shirt, and show us your inner Rat Fink at our of our Lake Country Cruisers Car & Bike Shows. – Scott, Pete, & Ron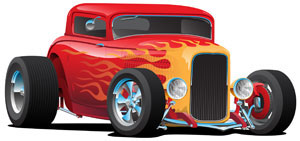 ---
PS – LAST CALL for the Fabulous Restorations Road Trip on November 6, 2022. If you want to be AMAZED and hang with hot rod builder George Haddad, e-mail me at lightoak@comcast.net by Tuesday, November 1, 2022.

---
Many years ago I had an online radio program called, "Far Out Radio" Sometimes I did car-themed shows. Below is the YouTube version of the show I did with Hot Rodder, editor, and author Pat Ganahl, author of the book, "Ed "Big Daddy" Roth: This Life, Times, Cars, and Art". As a young man, Ed was truly a "wild man"!

https://en.wikipedia.org/wiki/Ed_Roth
https://www.ratfink.com/