A Perfect Day For A Car Show! (Slide Show Below!)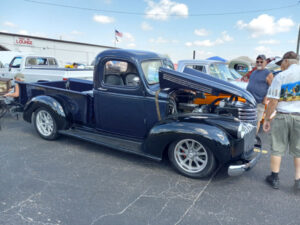 Greetings Cruisers! What a beautiful day we had for a Car & Bike Show. It was a little cool at 9 am when we started to set up and a little warm when we wrapped up tthe show at 1:30 pm.
A big "Thanks!" to our friends at the Lake Placid Dunkin Donuts for the coffee and donuts. They sure did go fast!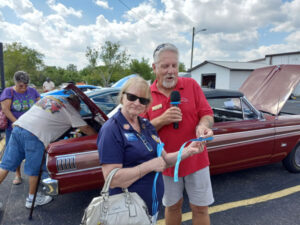 We had fifty cars and around eighty in attendance at the show. The American Legion was having a regional meeting in the banquet room, so the inside kitchen was closed. But Commander Fred Pierce made sure that our Cruiser friends could get lunch, so the outside grill was fired up and by 11:30 am you could smell the burgers and hot dogs!
Our 50/50 winner was Sebring resident BethLinn Mackes and her take home was $150 CASH!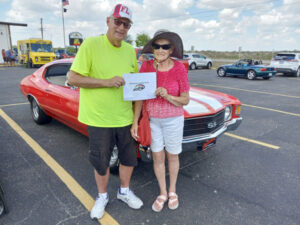 Our 50/50 Runner-Up winner was Sebring resident Pat Klynstra, and she received a FREE oil change from our friends at Highlands Complete Auto, on Rt. 27 in Sebring.
And our Curiser of the Month was Ron Bomberger and his stunningly beautiful 1956 Studebaker Golden Hawk. In 1956 this was one of the quickest, fastest cars of its day. The Golden Hawk's styling was influenced by French industrial designer, Raymond Loewy's design studio. Loewy went on to design the body for the 1963 Studebaker Avante.
SPECIAL ANNOUNCEMENT!
Our next Lake Country Cruisers Car & Bike Show on April 8, 2023, will also be a Swap Meet! So, the same as we did for our February Swap Meet, we will start at 9:00 am, one hour earlier than usual.
If you are looking for parts or would like to clear the car clutter in your garage and unload some old car stuff, the 10′ x 10′ space is $15 and the 10′ x 15′ space is $20. You can pay at the Sign-In tent.
Thanks to everyone that came to the show. Remember, our shows are car AND bike shows. So, if you have a motorcycle, bring it. If you have motorcycle friends, invite them! It's a Car & Bike Party!
See ya next month! – Scott, Pete, & Ron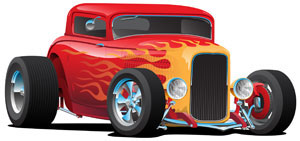 ---
PS – We will be doing Car & Bike Shows throughout the year, and sometimes in different places. We'll always let you know where and when, but be sure to check out Coming Events page.
---