Rat Rods Are Extreme Modern Versions of the First Hot Rods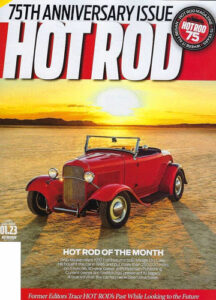 Greetings Cruisers! The January 2023 issue of Hot Rod Magazine was their 75th Anniversary issue. Yes, Hot Rod Magazine is now 75 years old! The issue is a fun retrospective of the magazine and how it got started in 1948 as Americans were getting back to peacetime and the Car Culture was being formed in southern California.
The issue pointed out that the original "hot rods" were built from parts found in junkyards. Guys would buy wrecked and worn-out cars, strip off unneeded things such as fenders and running boards, and soup up their engines. This was before the era of pretty "custom cars". People that weren't into those new-fangled "hot rods" called them "jalopies" or "junkers". Their appearance was not unlike today's "Rat Rods".Except for the Rat Rod BEASTS in this fun video.

At our last Lake Country Cruisers show, we had a nice group of fun Rat Rods and Classic Hot Rods. The Rat Rods featured in the video are truly OVER THE TOP! Enjoy!
We have two upcoming events you should mark on your calendar. This Saturday, February 11, 2023, our Car & Bike Show will also be our first-ever Swap Meet. The Swap Meet will start one hour earlier than usual, at 9 am. We still have space, so exchange your old car stuff for CASH. Then, you can go get some NEW car stuff!
To reserve a spot, e-mail Scott at… lightoak@comcast.net or call, 863-699-6355.

And, we'll be hosting another "Meet'n Eat" event at Jaxson's On the Lake on Thursday, Feb. 16, 2023, from 2 pm to 4 pm. So, come on and hang out with us for a few hours. We'll tie on the old feedbag, bench race, and solve the world's problems!
To RSVP, e-mail Scott at… lightoak@comcast.net or call, 863-699-6355.
See ya Saturday! – Scott, Pete, & Ron