Dateline: 3-21-22 – Greeting Cruisers! We have two things to share with you; first a reminder and second an announcement.
This Thursday, March 24 we will be having our second Meet'n Eat, this time at Mr. Sammy's N.Y. Style Pizza Bistro and Italian Cuisine in downtown from 2 pm to 4 pm. If you are planning on joining us for some good food and drink (Sammy served beer!), please RSVP so we have an idea how many will attend.
You can RSVP by sending me an e-mail at: lightoak@comcast.net .
Our announcement to all of you is that Pete Richie has secured another local restaurant sponsor for our car shows! Beef O'Brady's on Rt. 27 in Lake Placid is on board with a $50 Gift Certificate for our Lake Country Cruisers Car Shows!
Beef O'Brady's is the fourth local restaurant to join our Cruisers enterprise with very generous $50 gift certificates that we award as runner-up prizes after we pull our 50/50 winner. So, at the next show, after we pull the winning 50/50 ticket, Pete will announce, "But wait! There's more!"
Our other restaurant supporters include Dock 633, GC Grill, and Mr. Sammy's. Our way of thanking our sponsors will be having monthly Meet'n Eat get-togethers on a rotating basis so that we can have get-togethers every month throughout the year!
If you are planning to attend, all we ask is that you tip our servers generously. After all, they are the ones that hustle to make sure a good time is had by all.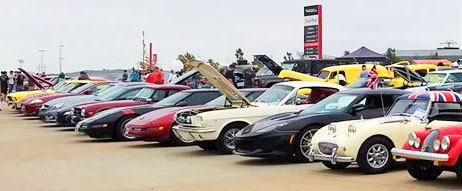 After our Meet'n Eat at Mr. Sammy's, our next chow-down event will be at the new GC Grill on Rt. 27 in Lake Placid. The date will be announced shortly.
Also, our next Lake Country Cruisers Car Show at the Lake Placid American Legion will be Saturday, April 9 from 11 am to 2 pm. Our last show was a rain-out (first time in years!) and to add insult-to-injury, The Legion's power was out that day!
Sometimes you eat the bear, and sometimes the bear eats you! Regardless, a BIG THANKS to the 30 Cruisers that showed up, despite the crummy weather!
That's all for now. Hope to see you at Mr. Sammy's this Thursday! – Scott, Pete, and Ron