It was a Florida-Perfect day for a car show!
Dateline 4-10-22: It was a spectacular day for a car show and a good time was had by all and a 180-degree turnabout from March's total rain-out. What was amazing about last month's rain-out was that despite the dismal weather, THIRTY cars showed up! The Lake Placid Wawa donated coffee and Dunkin Donuts provided yummy D&D donuts. So, the car show turned into a handout for an hour or so.
Officially we had 51 cars registered for our April show, which considering that the big "12 Hours of BBQ" event was going on at Fireman's Field in Sebring, was very good.
We had four special guests at the show. Ellen Beers from the South Central Florida Car Club stopped by for a visit. It was a good day for Ellen, as she was our 50/50 Runner-Up winner and took home a $50 gift certificate from The GC Grill House. Thanks for coming up from LaBelle, Ellen!
Last December, thanks to your support, Lake Country Cruisers was able to make a $500 donation to the Veterans Council of Highlands County. Glenn West, the Vice President of the organization was on hand with his BMW sports car. We hope to be making another donation to help Highlands County Vets in the near future.
Our February 2022 Cruiser of the Month, Larry Dudgeon was our Feature Car with his black 1990 Mustang GT. Larry has been a hot rodder since 1954 and a Ford guy for decades. He was a professional mechanic and has a wealth of knowledge about Fords. If you're a Ford Guy and into performance, get to know Larry.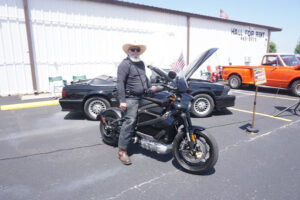 And lastly, we were happy to see one of the automotive instructors from the South Florida State College's Automotive Vocational Training Program. He arrived on his 2020 Harley-Davidson Livewire Electric motorcycle! It was the first time I've ever seen a Harley Livewire in person; pretty neat machine!
Our Door Prize winners were; Ray Optof, Bob Forrester, Brian Geever, Bill Test, and Herbert Conley. Our 50/50 Winner, Brian Geever, took home $200 cash! And our 50/50 Runner-up was Ellen Beers from the South Central Florida Car Club. Ellen took home a $50 gift certificate, courtesy of the GC Grill House, on Rt. 27 in Lake Placid. A big THANKS to GC Grill House!
And speaking of GC Grill House, our April "Meet'n Eat" will be at the GC Grill House, Thursday, April 14, from 2 pm to 4 pm. This is a Guys & Gals event!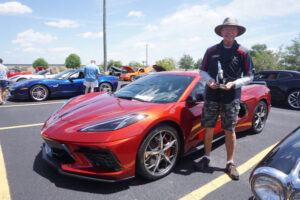 Our April Cruiser of the Month was Jim Schindlbeck and his beautiful 2021 Mid-Engine Corvette Stingray. In the next few weeks, we will be posting a "Meet our April 2022 Cruiser of the Month, Jim Schindlbeck".
Thanks to everyone that showed up for our car show. If it wasn't for you, Lake Country Cruisers wouldn't be able to do the local charity work with the Veterans Council of Highlands County and the Bill Jarrett Automotive Scholarship Program at Sough Florida State College!
See y'all next month. Bring your other car buddies! – Scott, Pete, Ron, Christy, & George
And bring your flags to the next show!