Dateline: 4-2-2022 – We are VERY happy to report that thanks to YOU, Lake Country Cruisers was able to donate $500 to South Florida State College's Bill Jarrett Automotive Scholarship Program!!!
On Wednesday, March 30, 2022 Ron Ellerman and I went to the South Florida State College Campus in Avon Park to meet with Thomas C. Leitzel, the President of the college, Sid Valentine, Vice President for Academic Affairs and Student Services (Sid is also a mechanical engineer), and Administrator, Jamie Bateman.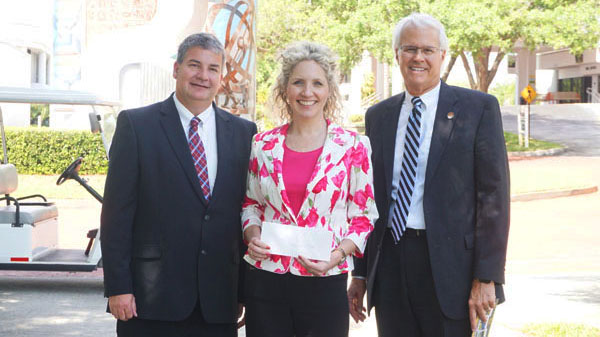 Tom, Sid, and Jamie gave us a tour of their Automotive Vocational Training Department. When we first met Tom and Sid, we didn't know that we were getting the tour from the President of the College and a Vice President!
We visited the two different training programs; AutomotiveService Technology and the Automotive Collision Technology Technician. The students were in session, but the instructors stopped class to let the students know that we were from Lake Country Cruisers in Lake Placid and gave us an opportunity to talk with the students.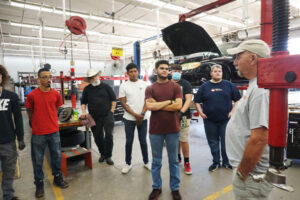 Ron and I talked about the car culture and that it doesn't matter what kind of cars they're interested in, there's a place for everyone. We also talked about working hard and how the skills they are learning, they will take with them for the rest of their lives. Those skills will map over other areas of their life, especially when they become homeowners. When you know how to figure out problems with a car or truck, you can figure out and fix problems with systems in a house.Sid Valentine mentioned that the college also teaches 3D Printing.
If you watch Jay Leno's Garage, occasionally Jay mentions how when restoring some of his old cars, sometimes a part is old and beyond repair, so they will 3D print a new part.
That's pretty darn cool! So, when Sid asked if we'd like to see their 3D printing training department we said, "You betcha!"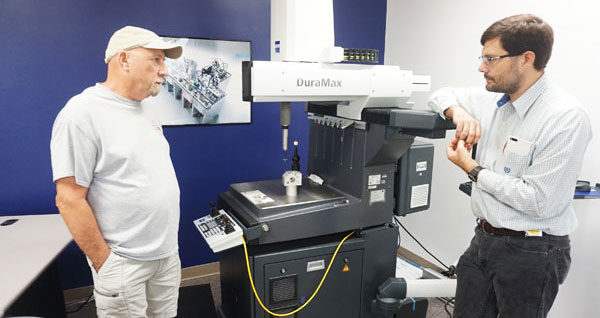 Ron mentioned to our hosts that the automotive programs must be financially intense. Tom and Sid explained that indeed there is a lot of overhead for the programs and that the academic programs cover the expenses, but it's tight. That's why the Bill Jarrett Automotive Scholarship Program is so important and why they are so appreciative of Lake Country Cruisers' $500 donation.
Then, they pitched out something that we were not anticipating. Jamie Bateman asked if Lake Country Cruisers would be interested in having a car show in the fall there at the campus! Ron and I said, "Absolutely!"
The campus is beautiful and they are willing to bring in some food trucks, promote the car show within the college, and get some local newspaper publicity. At this point, we do not have a scheduled date, but it will be on a Friday sometime in September or October.
Once we have a firm date, I will start working on possibly getting some local TV attention, as well as promoting the event to our members.
This started out as just a way for Lake Country Cruisers to give back to the community. When I contacted Jamie Bateman I had no idea there was such a thing as The Bill Jarrett Automotive Scholarship Program and told Jamie, "This is perfect for us!"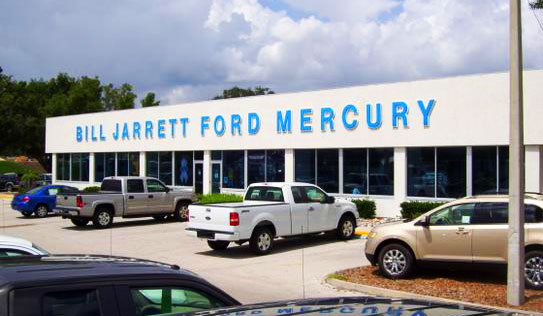 And lastly, we would NOT have been able to do without YOUR support at our car shows with the $5 entry and participation in our 50/50. Without YOU, this would not have happened! So, on behalf of Ron Ellerman and Pete Richie, THANK YOU!
As soon as we have a date scheduled for the car show at the college, we will make announcements at our shows and on the website. – Scott, Pete, and Ron
PS – Our next Lake Country Cruisers Car Show will be April 9, 2022, the day before Palm Sunday. We will also be raffling off our "Cookie Jar Full of Cheer".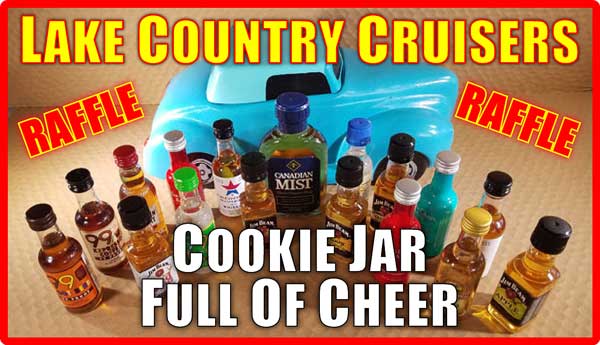 And, bring some American flags. Let's festoon the American Legion with our great, beautiful flag! See ya!