Meet "Studebaker Man", Ron Bomberger and his Stunning 1956 Studebaker Golden Hawk
NOTE: This Saturday's Car & Bike Show will also be a Swap Meet!
When Ron Bomberger and his 1956 Studebaker Golden Hawk rolled into the Lake Country Cruisers Show on March 11, 2023, I turned to Ron Ellerman and said, "Look at that beautiful Studebaker! I don't remember the last time I saw one!" Studebakers are hardly ever seen and this one was dazzling! We forget, but in 1956 the Golden Golden Hawk, with its big Packard engine was the quickest, fastest car on the road.
Here's "Studebaker Man" Ron Bomberger's Story
"My first car was a Studebaker and I bought them until the company went bankrupt in 1967. I just always loved the Golden Hawk. Around 2012 when we were living in Pennsylvania, I found this car on eBay and got really excited. It was nice, mechanically sound, and complete, but tired. It was too good to pass up.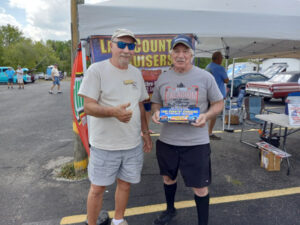 We were snowbirds then and would winter in Lake Placid. Then in 2016 we moved to Lake Placid permanently and brought the Golden Hawk with us. But when we lived in Pennsylvania I was very impressed with the workmanship of restoration experts at Cornerstone Automotive, in Lititz.
I kept thinking how amazing the Golden Hawk would be if it had a frame-off restoration. Continue reading "Meet March 2023 Cruiser of the Month" →