Slide Show Below!
Greetings Cruisers! The beautiful weather continues. It was another perfect day for a Car & Bike Show. We had sixty cars and bikes, and well over one hundred in attendance. The Legion had the outside grill fired up and served hungry Cruisers hot dogs, hamburgers, and cheeseburgers.
SPECIAL ANNOUNCEMENT!
To take the edge off the heat, our May 13, 2023, American Legion Show will start and end one hour earlier. The May show will start at 9 am and run until 12 noon. We are also working on shows in June, July, August, and September in various locations and some early evening shows! We'll keep you informed.
Our first Feature Car, Ron Bomburger's 1956 Studebaker Golden Hawk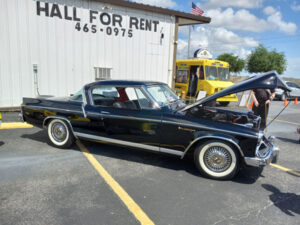 Last month's Cruiser of the Month, Ron Bomburger's beautiful 1956 Studebaker Golden Hawk was on hand. Ron's classic Studebaker has had a frame-off restoration in the last few years and won 1st Place in the Antique Automobile Club of America (AACA) Winternations and has qualified for the coveted AACA Zenith Award!
Our second Feature Car was Dan Barr's 1989 Corvette Challenge race car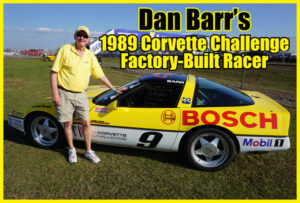 From 1985 to 1987 Corvettes totally dominated the SCCA Showroom Stock Series. By the end of the 1987 season, SCCA kicked the Corvettes out of the series for being too fast! Then in 1988, and 1989 Chevrolet offered identical race-prepared L98 Corvettes to race in the Corvette Challenge Series. These were factory-built race cars and only eighty-five Corvette Challenge race cars were built, making them rare in the world of collectible Corvettes.
Dan Barr purchased his #9 Bosch 1989 Corvette Challenge race car at the end of the '89 season. Since then, Dan has raced his Corvette extensively. Between 2022 and 2023 the car was refreshed and restored at George Haddad's Fabulous Restorations Hot Rod Shop in Fort Lauderdale, Florida. Even though the Corvette is a real race car, it is street-legal! I covered Dan's Corvette in the April 2023 issue of Vette Vues Magazine.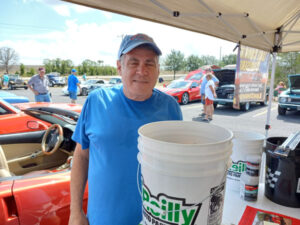 Coming up Next Month! Continue reading "Lake Country Cruisers April Car & Bike Show" →