Our Christmas Cruise-In Was A HUGE Success! SLIDE SHOW!



Greeting Cruisers! What a PERFECT day we had for a car show. Things started out a wee bit foggy, but by 10 am it was perfect. Although the location was a tad small, by noon we had 57 cars registered. Park Avenue slopes down and we had cars lining both sides of the street, the parking areas to the left of the Historical Society Depot were filled with cars, the grassy lot to the right of the building was stuffed with cars, and cars were parked on the hill and side yards!

Click the above graphic to launch the Slide Show.

Cars were everywhere and at different levels. It was not your typical "parking lot" car show.
Our Feature Cars were very special vehicles. Dick and Marilyn Roddie brought BOTH of their 1931 V-12 Cadillacs. Marilyn was beautiful and looked like a 1930s Hollywood movie star. For many, it was the first time they'd ever seen anything like that in-person.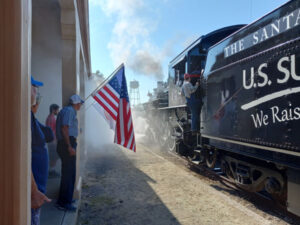 And speaking of things never seen before by many. The U.S. Sugar "Santa Express" departed from the Depot precisely at 12:00 Noon. When steam locomotives pull out, it was truly a sight! Billowing steam so thick you can't see a thing and LOUD! Around one hundred passengers enjoyed the nostalgic trip to Clewiston and back.
Our 50/50 winner was Placid Lakes resident, Jim Maze. Jim's "Aunt Bee" 1956 Chevy "Cop Car" is always a crowd favorite.
Everywhere you looked, you saw cool cars and lots of smiles. Kids of all ages had a great time. Some folks brought their dogs and they had a good time too! (dogs love car shows!)
For everyone that came out, a big THANK YOU for making our Christmas Cruise-In a success. We are already working on next year's Cruisers Christmas Cruise-In!
Scott, Pete, & Ron
PS – Our January Lake Country Cruisers Car & Bike Show will be back at the Lake Placid American Legion on January 14, 2023. See y'all next time!
PSS – Our monthly Meet'n Eat luncheons will be back in January!