A Perfect Florida Car Show
Greetings Cruisers!
DOCK 633 has been very generous to Lake Country Cruises since Ron, Pete, and I took over the management of the car shows in October 2021. Those $50 Gift Certificates are mighty sweet!
Dock 633 owners, Bill & Hillary recently added an outside Tiki Bar they call, "The Sand Bar" to the side of their restaurant and asked if we could stage a Car Show for their Grand Opening. Everyone lucked out because it was a picture-perfect spring Florida day.
Thirty cars and at least fifty Cruisers showed up. We stuffed the front parking lot with Hot Rods and cool cars. Everyone that registered got a blue star ticket for a FREE drink, plus 20% off their food tab. Bill & Hillary also booked live music!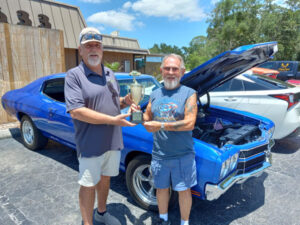 Best In Show went to Bruce Clough for his beautiful blue 1970 SS-454 Chevelle. Bruce took home a trophy, plus a $100 DOCK 633 Gift Certificate. Best In Show Runner-Up was first-time attendee, Dave Lawrence for his gorgeous 1970 Chevy C10 Retromod Pickup. Dave took home a $50 Dock 633 Gift Certificate.
For a small car show we did great with the 50/50. Our 50/50 winner was Phil & Cheryl Link. They pocked $150!
SLIDE SHOW BELOW…
The Dock 633 Grand Opening was all day and the car show portion was supposed to go from 11 am to 2 pm, but a lot of us didn't leave until 4 pm, we were having such a great time.
Just a couple of reminders…
First; Thursday, June 8, 2023, our Corvette/Motorcycle pal, Paul Fry is hosting a Thirsty Thursday at his house in Spring Lake from 2 pm to 4 pm-ish. Everyone is invited. If you have Highlands County Corvettes friends, please let them know they are invited too.
For full info and maps to Paul's place, CLICK HERE.
And second, our next Lake Country Cruisers Car & Bike Show is this Saturday, June 10 at the Lake Placid American Legion, on Rt. 27 in Lake Placid. We're on "Summer Hours", so the show will start at 9 am and run until 12 Noon.
The Legion's outside grille will be manned by Larry and he'll be serving up burgers, cheeseburgers, and hot dogs for lunch. Also, the Legion's "cool" bar will be open for beer, soft drinks, and hard drinks.
As always, Cruisers Shows are family and dog friendly. So, bring the kids, the grand kiddos, the nieces, the nephews, and the dog, too! See y'all Saturday! – Scott, Pete, & Ron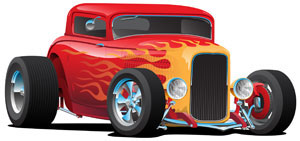 PS – Our July Car & Bike Show will be different. So that we can be part of the Independence Day Weekend celebration, our show will be SUNDAY, July 2, 2023 at the Lake Placid American Legion.
This will be an EVENING show that will start at 5 pm and go until 8 pm.
This way, as the show progresses, it will get COOLER as we move into the evening. The Legion will have Live Music featuring the Rob Stotz, "Rock'n The Oldies!" show. The Legion Mess Hall Kitchen will be open for dinner, the bar will be open, and if you dance, the dance floor can be yours!
This will be a "different" Car & Bike Show for us and we're looking forward to the event!
See you all there!