Dateline: 1.10.22 – The Lake Placid American Legion Post 25 has been home to the Lake Country Cruisers (and Highlands County Corvettes) for several years now. As part of Lake Country Cruisers Community Outreach, we are joining the Lake Placid American Legion in their support of Veterans Services of Highlands County.
We are very happy to announce that thanks to your support of our car shows, last month Lake Country Cruisers was able to make a $500 donation to Veterans Services of Highlands County!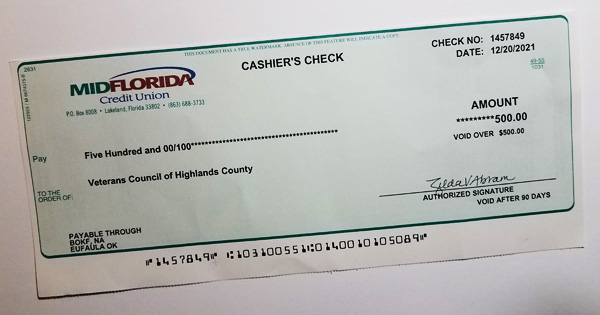 When we made our donation on December 21, 2021, at the monthly meeting in Sebring, we were all impressed with the team that runs Veterans Services of Highlands County. The only person in their organization that is monetarily compensated is the Secretary. Everyone else is a volunteer.
Here is some information from the County Office website…
About the Highlands County Veterans Services:
The Highlands County Veterans Services, located in Sebring, FL, provides support for veterans of the US Armed Forces. Veteran Services connects veterans with several government agencies and nonprofit organizations at the federal, Florida state, and Sebring level. These services include veteran benefits assistance, services for veterans with disabilities, and information about medical care, insurance, and education benefits. The U.S. Department of Veterans Affairs (VA) also provides veteran services in Sebring.
You may contact Veterans Services for questions about:
Applying for military and veterans' benefits

Veterans Affairs Offices and Vet Centers

Highlands County VA Hospitals and health benefits

VA Burial services

Highlands County VFW and AMVETS posts
And here is their website HERE.
The Highlands County Office also has information HERE.
Lake Country Cruisers' goal for 2022 is to be able to make a much more generous contribution for 2022.
Thanks again, everyone. We couldn't have done it without you! – Scott, Pete, & Ron
PS – Our next Lake Country Cruisers Car Show will be on February 12, from 11 am to 2 pm. Bring your appetite as the American Legion "Mess Hall" will be open for lunch and beverages! See you there!