Our July 4th Weekend Car Party!
Greetings Cruisers! Thanks to everyone that came out for our first Lake Country Cruisers evening show in a long, long time. We had around 45 cars and officially 36 registered. All total, we had approximately 60 car friends come to the Lake Placid American Legion to enjoy the car show as part of their Independence Day weekend festivities.
A Few Words About the Weather
Fortunately, we had no rain, although dark clouds were forming about 25 miles to the east towards the end of the show. Now, about the heat.
When Pete, Ron, and I arrived at the Legion at 4 pm, it was beyond "warm", IT WAS HOT! As we were setting up, we were looking at one another with the same silent expression, "This might have been a BAD idea!" But, we were committed, and "the show must go on", right?
Then, almost "by plan", by 6 pm the temps began to drop, and some cloud cover took the edge off the heat. By 6:30 it was a pleasant, warm early summer evening.
Cruisers Closed the Kitchen!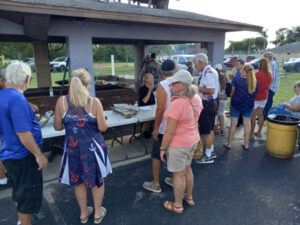 The Post 25 Legion had their backyard grill fired up and Larry Morrison and Commander Fred Pierce were cooking hot dogs and flipping burgers. Not only did you Cruisers bring your cars, but you also brought your appetites! By 7 pm we had to announce that the Legion was SOLD OUT of everything! All the dogs and burgers got gobbled up! GOOD JOB, everyone! Commander Fred said that next month he'll make sure they have more burgers and dogs.
Door Prizes were won by Justin Donohue, Jon Platt, Jim Maze, and "Lucky" Jack Murphy. Our 50/50 winner took home $175! (could the 50/50 winner please contact us, as we didn't get a chance to record their name)
And our Cruiser of the Month was Ronald Davis and his big-time fun 1927 Ford Rat Rod. Rat Rods are actually tributes to the earliest Hot Rods made from cobbled-together parts from old car junkyards. Their purpose was speed and performance. Hot Rods didn't begin to get "pretty" until the 1950s era of Show Cars.
Our next Lake Country Cruisers Car & Bike Show will be Saturday, August 12, 2023, at the Lake Placid American Legion, on Rt. 27 in Lake Placid. This will be another EVENING SHOW that will start at 5 pm and wrap up around 7:30 pm.
The Rain Date will be the following Saturday, August 15. If that changes, we will let you know here on the website.
Just a reminder, the big 25th Annual Lake Placid Caladium Festival Car & Bike Show will be Saturday, July 29, 2023. The Registration Gate opens at 7 am. We will be posting details about the show in our next post here on the website.
Thanks again, everyone! We'll do it again next month. – Scott, Pete, and Ron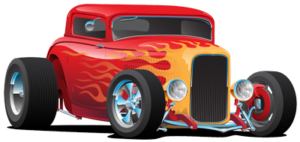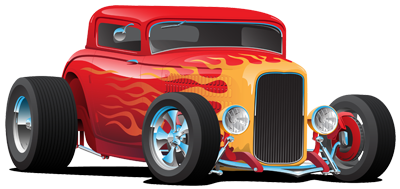 PS – If you like Tacos & Draft Beer, we have a SPECIAL ANNOUNCEMENT coming us soon!!!