Dateline: 2.24.22 – At the last Lake Country Cruisers Car Show Gary & Peggy Pixley brought us a very sweet, hand-made by "Kathy's Top 1940s", 1940 Ford Cookie Jar. The convertible top" is the lid to the cookie jar. It even has a "Certificate of Title for Street Rod". The "Title Number" is 064-1992, which leads us to guess that the cookie jar was made in 1992.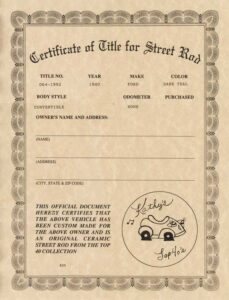 George Silsby said, "Maybe we should raffle it off?" Then I said, "This should be filled with bright-colored Jolly Rancher candies." Pete went pie-eyed and said, "We could fill it up with those little booze bottles!" And we all said, "Yea!"
So, here's the deal, Cruisers. We were able to stuff 17 little bottles of Cheer into our 1940 Ford Convertible cookie jar! REALLY! The bottles that are not sticking up, are under the hood and trunk areas.
At our next Lake Country Cruisers Car Show at the American Legion (March 12, 2022), we will be raffling off this sweet 1940 Ford Convertible Cookie Jar Full of Cheer, for just $5 per ticket.
The winning ticket for the Cookie Jar Full of Cheer will be pulled AFTER we announce the Cruiser of the Month, and before we pull the 50/50 winner and Runner-Up Gift Certificate to GC Grill, on Rt. 27 in Lake Placid (formerly "Golden Corral"). Continue reading "Cookie Jar "Full of Cheer" Raffle at March 12, 2022 Lake Country Cruisers Car Show" →