Great Steaks, Lunch Specials, Entries, & Service at one of Sebring's Premier Restaurants
Dateline: 7-22-22 – Well, the hungry Cruisers descended upon Cowpoke's Watering Hole to tie on the 'ol feed bag! It was a hot, sunny summer Florida day, but cool in the Watering Hole's private back room. With twenty Cruisers in attendance, we filled half of the room.
A very good time was had by all; lots of laughs, joking, story-telling, and comradely. That's what our monthly Meet'n Eat luncheons are all about.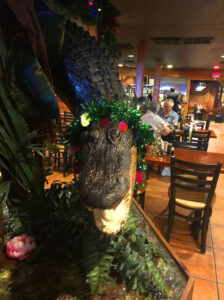 And a special "Thanks" to Cowpoke's Watering Hole. Our waitress was excellent, the food was perfect, and everyone felt welcome. We'll definitely do it again!
Cowpoke's Watering Hole has a lot to offer. The outside Tiki bar is a delight, the inside air-conditioned dining rooms was relaxing, and the restaurant can accommodate special events, such as Lake Country Cruiser's Meet'n Eat luncheons! – Scott, Pete, & Ron
PS – Our next Meet'n Eat Luncheon will be at Dock 633, the date to be announced.
---
Cowpoke's Watering Hole Website…
https://cowpokeswateringhole.com/
Cowpoke's Watering Hole Facebook Page…
https://www.facebook.com/cowpokeswateringhole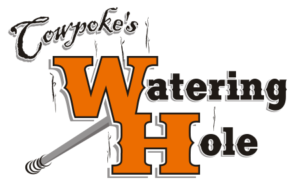 Cowpoke's Watering Hole / 6813 US Highway 27 S / Sebring, Florida
Phone: 863-314-9459
Hours of Operations:
Mon-Thu 11am – 9pm / Fri-Sat: 11am – 10pm / Sun: 11am – 8pm
---