The Sebring Starting Line Sure Looks Good with Dick & Marilyn Roddie's 1931 V-12 Caddies!
Greetings Cruisers! Early last March we were happy to help Wayne Estes, President and General Manager of Sebring International Raceway with the flag pole dedication event by arranging several 1930s classic cars to be on display around the flag pole. A great time was had by all and we were happy to have on hand Lake Country Cruiser co-founder and WW-II Veteran, 95-year-old Ross Longo and 100-year old WW-II Veteran, Chester Barber.
Sebring International Raceway Gets a New Main Sponsor
What Lake Country Cruisers wasn't fully aware of was that Sebring International Raceway's new major sponsor is Cadillac Racing. With nearly 100-year-old, fully restored and running classic vintage Cadillacs (a 1931 V-12 Cadillac Phaeton and 1931 V-12 Cadillac Roadster) residing practically in Sebring's backyard (Lake Placid), Estes was hoping Roddie's Cadillacs would both be able to "take a lap" around the track. Circumstances precluded that, but the story isn't over.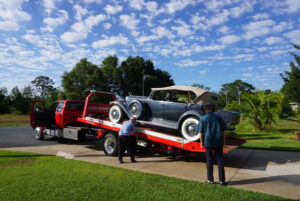 Early in April, Estes contacted Lake Country Cruisers with an offer. The track is often rented out to various racing teams and groups, but on April 13, 2023, the track would not have any racing activity. Estes asked if Dick and Marilyn Roddie would like to bring their two 1931 V-12 Cadillacs to the track for a special photo shoot on the Sebring starting line and in front of one of the "Cadillac Racing" track-side banners? The answer was, "Absolutely, yes!"
Two 1931 V-12 Cadillacs on the Sebring Starting Line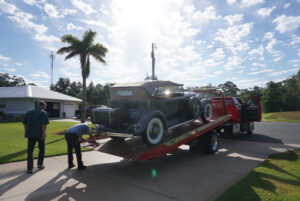 While the classic Cadillacs indeed do "run" their "roadability" is questionable, considering the speed limits of the roads between Lake Placid and the Sebring track. But there's always a way. The Roddie's friend, John Meyerhoff volunteered the use of his enclosed trailer and Wayne Estes sent a transport to the Roddie's Cadillac Service Garage-themed home garage. It was a perfect Florida spring day and all the pieces were in place. Continue reading "Two 1931 V-12 Cadillacs on the Sebring Starting Line" →