Greetings Cruisers! First, sorry for the seemingly last-minute announcement, but it was just brought to my attention that this Friday and Saturday there are a lot of car show activities in the Sebring area! So, let's get straight to it!
2023 Sebring 12 Hours of BBQ, presented by Sebring Firemen Inc.

This is a 2-day event beginning Friday, March 31, 2023, that runs from 11 am to 11 pm and continues Saturday, April, 102023 from 10 am to 6 pm. The event will include;
CAR SHOW Saturday 10am-1pm.
CORN HOLE TOURNAMENT Saturday 9:30 am-2 pm.
THIS YEAR THE FEATURED MUSIC TALENTS:
Friday 3/31
* WWOJ Live Remote 11 am 4, Harry Havery (lead singer from California Toe Jam Band) and 12 pm-3 The Outta Hand Band 4 pm-7 pmo Rye Road 7:30- Midnight
Saturday 4/1
* Keith Bass & Florida Blue Grass Express 10:00 am-12:00 pm* The Lee Alcorn Band 1:00 pm-4:00 pm* Harry Havery 4:00 pm-6:00 pm
* This is a Florida BBQ Association-sanctioned event:
For more info, visit; https://visitsebring.com/mec-events/2023-sebring-12-hours-of-bbq-presented-by-sebring-firemen-inc/

Pin Wheels 4 Kids, Downtown Sebring on the Circle. Saturday, April, 1,2023: Promoting Happy, Safe Happy Childhoods for all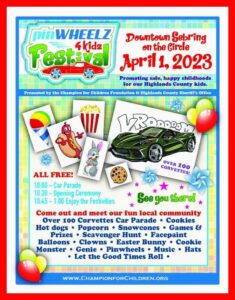 We were informed of this late Wednesday afternoon when one of the organizers from the Tampa area contacted Ron to let us know that they will be bringing at least ONE HUNDRED Corvettes with a police escort from Tampa to the Sebring Circle this Saturday! For our Cruiser Corvette lovers, you'll have an opportunity to see, and meet'n greet lots of new Corvette people!
This is a children's event sponsored by www.ChampionForChildren.org. All FREE
10:00 am Corvette Parade
10:30 Opening Ceremony
10:45- 1:00 Enjoy the Festivities
The event will include –  cookies, Hot Dogs, Popcorn, Snow Cones, Games & Prizes, Scavenger Hunt, Face Paint, Balloons, Clowns, Easter Bunny, Cookie Monster, Genie, Pinwheels, Music, and Hats!
Want to Caravan into the Show with your Corvette and a police escort??? Here's how!

If you are a Corvette owner and would like to caravan to the Sebring Circle (with a police escort!) meet up at the Avon Park Executive Airport, located at 1535 SR 64 West, (aka Main Street West) in Avon Park, FL., NO LATER than 8:30 am.

Tomoka Heights World of Wheels Custom Car Show, April 1, 2023, 10 am to 2 pm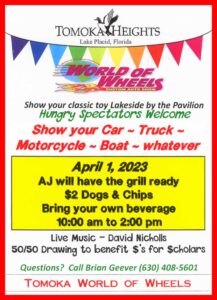 This event is for Tomoka Heights residents only, but since we have many Cruisers that reside in Tomoka, we want to let you know.
This is Brian Geever's project and if you want to contact him, he can be reached at: – 630-408-5601. Tomoka resident "AJ" will have the grill fired up and will be serving $2 hot dogs and chips. Where are you gonna get a better deal? Live music will be provided by David Nicholls and there's be a 50/50 drawing.
So, if you live in Tomoka and feel like staying close to home, come on down to the Lakeside Pavilion. Plenty of parking and shade!

Corvette Man, Mel Feathers' Tribute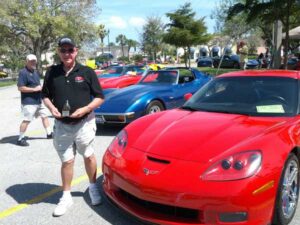 Since there's a lot of cross-over between Lake Country cruisers and Highlands County Corvettes, we wanted to let everyone know.
Mel's wife, Marsha, has announced an informal open house to honor Mel on April 1st at their home at 178 Lake Drive Blvd., in the Harder Hall area of Sebring from 2:00 to 4:00 PM.
If you knew Mel and would like to attend, I am sure he and Marsha would be proud to have all the HCC members and their Corvettes stop in to visit!
Mary Carol Plott and John Meyerhoff will be attending. Mel was a Corvette guy who loved his Vettes and was a regular at the Highlands County Corvettes activities! If you need more info, contact John at; meyerhoffvet@aol.com
Busy weekend, Cruisers!!!

Just a reminder, our next Lake Country Cruisers Car & Bike Show will be Saturday, April 8, 2023, and will also be a Swap Meet!
We'll be starting at 9 am and running to around 2 pm to give those that want to find or sell car and bike parts some extra time.
It's still a "Car & Bike Show", so bring your best ride! For full details, CLICK HERE.
That's all for now, everyone, perhaps we'll see you at one of the events this weekend, if not, we'll see YOU on April 8, 2023! – Scott, Ron & Pete