If you long for yesteryear and the ROAR of traditional mechanical race cars, this is where you want to be!
Dateline: 2.19.22 – Yes, it's that time again, SVRA (Sportscar Vintage Racing Association) will be holding their Sebring Speed Tour, two-day racing event and car show at Sebring International Raceway, on February 26 & 27. The Cars and Coffee Car Show is sponsored by Hagert Insurance.
The tickets for the 2-day event are $50 per car. Toni Strollo, at SVRA has extended Lake Country Cruisers and Highlands County Corvettes members a 50% discount by using the code HAGERTY22 (You Do Not Need to Have Hagerty Insurance – Just Use the Code) when you check out. THANK YOU, Toni!

After you get your ticket online, the Lake Country Cruisers will meet at 8:30 at the Moose Lodge, on Rt 98 in Sebring. We will leave the Moose Lodge parking lot at 9 am and drive to the track together. Ticket instructions are below.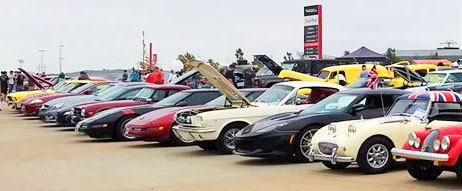 Here is how to get your tickets. Go to this webpage… https://svra.com/events/2022-sebring-speedtour/
On the above-mentioned page, scroll down a little, and look on the LEFT for "SpeedTour Spectators" and click the red "Car Show Registration" button, a new page will open.
Fill out the form and click the FINISH REGISTRATION button.
On the next page, look on the LEFT for "Enter Coupon" and type in HAGERTY22 , then "Apply", this will create the $25 discount.
On the next page, fill out the corm and click the green "Continue" button at the bottom.
The next page is for your Credit or Debit card info. Fill that out and click the BLUE "Place Order" button.
The last page has your Confirmation Number. You will also receive an e-mail confirmation. Look for the line that says, "Download your printable receipt / Tickets (PDF):" right after that will be a link for a PDF that you can print from your computer.
If you have any questions you can contact Toni at, tc@speedtour.net
See you all at the show! – Scott, Pete, & Ron
PS – Lake Country Cruisers' next "Meet'n Eat" will be at the NEW GC Grill (formerly Golden Corral), at 322 S. Rt. 27, Lake Placid, Florida. Date To Be Announced. The time will be 2 pm to 4 pm.