Sometimes in Life, "Providence moves to…"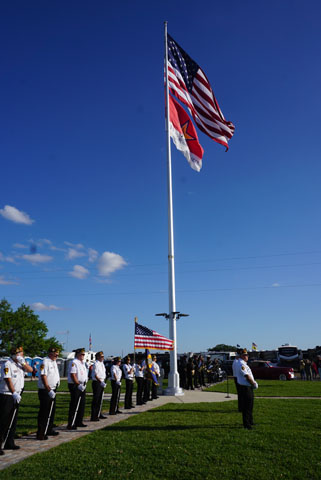 Hey Cruisers! Yesterday we shared with you the beautiful coverage by The Highlands News-Sun from the front page of the Friday edition. In addition to the re-dedication ceremony of Hendricks Field last Wednesday, on Friday morning there was a Corvette Racing Seminar hosted by Corvette engineer Bill Tower and Stingray Chevrolet owner, Steve Hurley. Then yesterday there was the 71st running of The 12 Hours of Sebring race. A big week, indeed.

A few thoughts about how the Hendricks Field re-dedication event came together and Lake Country Cruisers involvement.
Occasionally, things seem to fall into place as if there was Divine Intervention. It certainly seemed that way to me and more than a few others. The entire event was organized and staged by Sebring International Raceway President and General Manager, Wayne Estes, and John Story, senior director of Marketing and Business Development & Communications at SIR. And no doubt, many others.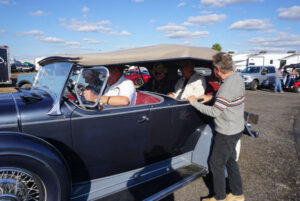 Planning, construction, and refurbishment of the Hendricks Air Field circle and flag pole, located at the north end of the track, started a year or so ago. In mid-February, we received an inquiry from Wayne Estes requesting vintage cars from the 1930s and early 1940s. The first cars we thought of were Dick and Marilyn Roddie's two 1931 V-12 Cadillacs. We also identified Tom Baldwin's 1939 Ford Pickup truck.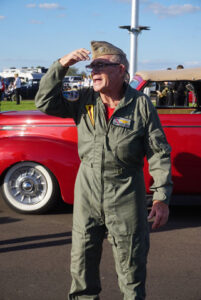 Then we connected with James "Pappy" Wright. James is currently in the process of moving his residence and collection of classic antique cars (and one C7 Corvette Grand Sport!) to Highlands County. James came on board with his 1932 Chevy, as well as retired Navy Commander Frank Jones with his early '30s Chevy. There were three other beautiful classic cars that, unfortunately, I wasn't able to connect with the owners.
So, we were able to pull together a sweet collection of classic cars to set the atmosphere to go with the Sebring High School Band that was playing classic 1940s WW-II era music. The VFW Post was also on hand to present the colors. The Sea Services displayed their replicas of the USS Enterprise CV-6 and the USS Samuel B. Roberts DE-413 along the roundabout circle.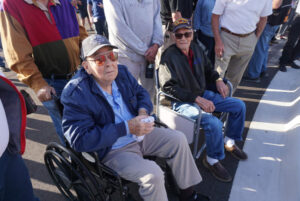 And to top it all off, Lake Country Cruisers co-founder, Ross Longo and 100-year-old Lake Placid resident and WW-II D-Day paratrooper pilot, Chester Barber were two of the event's special guests.
Meet Mr. Chester Barber!
Continue reading "What'a Week at Sebring Raceway! SLIDE SHOW" →