Dateline: 5-11-22 – Greetings Cruisers! Just a quick reminder and a few updates. At this Saturday's Lake Country Cruisers Car & Bike Show we will be raffling off 1940 Ford Cookie Jar stuffed with little bottles of Cheer for just $5 per ticket! Big THANKS to Gary Pigman for donating the sweet car cookie jar.
We are still working on a possible Father's Day Car & Bike Show on June 19, 2022.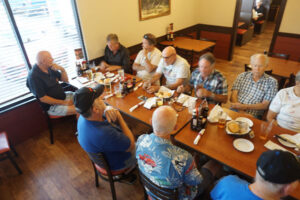 Also, we are close to getting a date for our next Meet'n Eat luncheon event. The location will be either Beef O'Brady's or Jaxson's On the Lake. We'll let you know as soon as the date and place is confirmed.
This Saturday's Lake Country Cruisers show at the Lake Placid American Legion, on Rt. 27 in Lake Placid, Florida will be our first Car AND Bike show. So, if you have a two or three-wheeler, bring your machine to the show! We love machines!
So, bring your bike pals, bring the kids, bring the grandkids too!
The Weather Channel is forecasting a partly-cloudy and warm day this Saturday. Lucky for us we can go into the Legion Lounge to cool our heels and get some lunch and beverages.
The show starts at 11 am and we wrap it up around 1:30 with the 50/50 drawing and the runner-up prize of a local restaurant gift certificate. See you Saturday! – Scott, Pete, Ron, Christy, & George