A "Fly's Eye" tour of an AMAZING place for car lovers.
Greetings Cruisers! It seems that whenever Car Guys & Gals get together at shows, the name "Rick Hendrick" always pops up. Hendrick has not just an extraordinary collection of cars, but his racing facility is world-class.
This video is cool because it's a flying drone tour. I'm sure it was as much fun to record as it is to watch, although it is rather speedy.
That's why I'm including another video that is more of a walk-and-talk.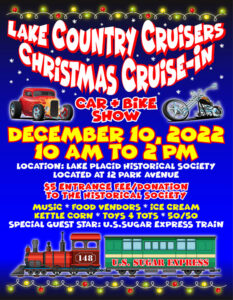 And just a reminder that our December Car & Bike Show (for this month only) will NOT be at the Lake Placid American Legion. We will be at the Lake Placid Historical Society Train Depot in downtown Lake Placid. We will be back at the American Legion on January 14.
The Car & Bike Show will run from 10 am to 2 pm. The $5.00 entry fee will be donated to the Lake Placid Historical Society Train Depot.
This will be quite a day, as the U.S. Sugar Express Santa Train will be coming to town, the Farmer's Market will be open for business, and that evening the Annual Lake Placid Christmas Parade will deliver miles and miles of smiles and good cheer! The parade starts at 7:00 pm.
Lake Country Cruisers will be IN THE PARADE again! If you'd like to be in the parade with up, it's not too late to sign up! E-mail Scott at… lightoak@comcast.net. For details and maps, CLICK HERE!
As of Monday, we have nine Cruisers that have signed on to be in the parade. Continue reading "Drone Video Tour of Rick Hendrick's Car Collection and Racing Facility!!!" →